Tallahassee is a wonderful place to live and go to school, and not just because of the myriad of things to do within the city. Florida's capital city is also surrounded by beautiful locations all within a day's drive. Having trouble deciding which day trip to take? Luckily our student ambassadors have given you a list of their favorites!
St. George Island
One of the quickest ways to satisfy your beach craving is to drive down to St. George Island. It's quiet, beautiful and fairly unoccupied. My favorite escape for a quiet day and is within a two-hour drive. Pro Tip: Aunt Ebby's Ice Cream is the best little ice cream shop on the island!
Jacksonville, FL
A short 2.5 hour drive away, I've never spent much time there but it's a great option for cheaper flights if you're far from home. Jacksonville is the perfect combination of a beach town and a big city.
Thomasville, GA
Thomasville is a very cute small town about an hour away with quaint shops, restaurants, and a great wine bar. It is a great place to go and walk around on a nice day, they also have lots of different events throughout the year like Victorian Christmas. Pro Tip: If you drive a Ford and it needs service, the dealership there tends to have more availability and you can make a day of it.
Wakulla Springs
Wakulla Springs (about 30 minutes south) is a phenomenal place to visit. Yes, it is better during the hotter months, as the cool spring water feels great after diving from one of the three platforms.
Blackwater River State Park
Another fun option if you're into water is to go to Blackwater River State Park (about 2.5 hours west) and tube down the river. There are also many non-water places around and near Tallahassee, such as numerous state parks, a lighthouse, and historical areas.
The FSU Reservation
FSU Rez is a great way to spend a morning or afternoon if you enjoy the outdoors and activities like beach volleyball and kayaking. You can even make reservations in advance to spend some time on the ropes course!
Rockin N Stables
Tallahassee also has numerous horse stables, this one is only 15 minutes away and has trail rides by appointment!
Marianna Caverns
The caverns are about an hour away and are a really cool and unique place, especially if you do the tour that goes down into the caverns.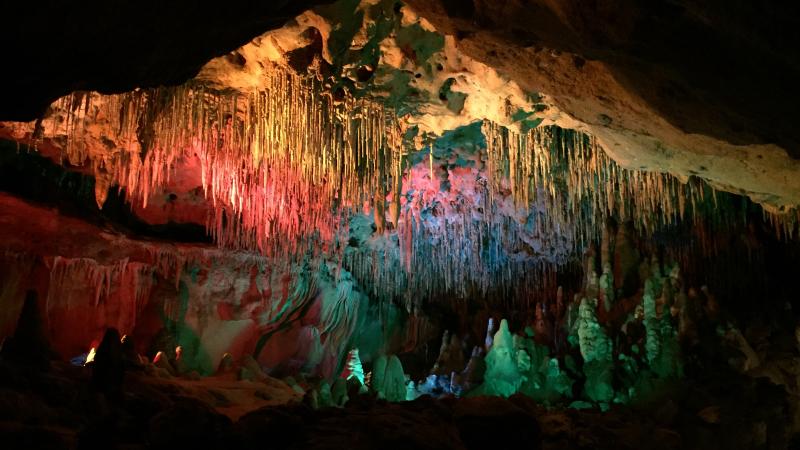 Alligator Point
Alligator point is perfect for a quick trip to the beach. A little over an hour away, this is the closest beach from Tallahassee. It's normally pretty quiet and there are a few cute seafood restaurants along the way, perfect for after a day in the sun.
Tom Brown Park
This local park is ideal if you are just looking to get outside for a few hours. There's a dog park, Frisbee golf course, and lots of areas to explore.
Providence Canyon State Park
Often referred to as the mini Grand Canyon of the south, Providence is the perfect place to go for a day hike or even a weekend camp out.

Bear Paw River Float
Bear Paw is a fun place to go floating and relaxing. You can rent tubes for the day and sit back with friends as you drift down the Chipola river.
Theme Parks
For those willing to make the drive all of the theme parks in Orlando and Tampa can certainly be an exciting day trip.
Panama City Beach, Florida
The white, sandy beaches of Panama City Beach are some of the prettiest beaches anywhere in the country– and located just a two-hour drive from Tallahassee– making it the perfect day trip or weekend getaway destination for a busy law student! But the beautiful beaches aren't the only reason to visit in Panama City Beach, there are also events such as the Gulf Coast Jam and attractions including Pier Park!